These ebooks are all overflowing with the lustful fantasies of Frank Noir – and guaranteed to turn you on. Get them from your favourite vendors.
Wet Dream Therapy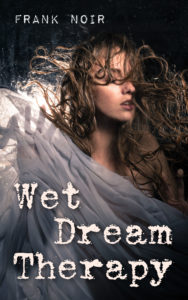 Rebecca and David Durand are sex therapists, specializing in erotic dreams – and also a happily married couple. Their own active sex life is fueled by their retelling of the dreams of their clients. But when a male client fantasizes about sex with Rebecca, their marriage is pushed to the breaking point – and both therapists are thrown into a turmoil of lust, forced to explore their own erotic fantasies. Will the hot nights of debauchery tear them apart forever – or somehow bring them back together again?
Frank Noir's explicit pornographic novel is a non-stop tour de force of incredible sexual encounters. Surreal erotic dreams blend into the story – melting away the boundaries between reality and erotic dreams.
Breaking the conventions of erotica, "Wet Dream Therapy" is a sexual fantasy unlike any other – and will awaken desires you never thought you had.
Not for the faint of heart.
Get "Wet Dream Therapy" from:
Naked Circus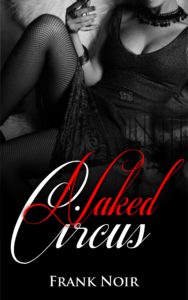 When her father dies and her mother remarries, our young heroine runs away from the family mansion to join a travelling circus.
As the troupe turns out to be a motley crew of perverts and deviants, it becomes a journey of personal and sexual development for Kate.
And maybe in the midst of the carnal chaos, true love awaits?
"Naked Circus" is available from all major vendors. Get it from:
Orgasm Offender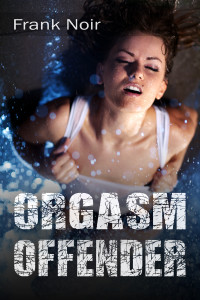 Maxwell is a notorious sex offender with a bizarre twist: Not content with his his own satisfaction, he forces his helpless female victims to experience powerful serial orgasms.
When Maxwell escapes after five years of incarceration in a psychiatric hospital, no woman is safe in city, as he embarks on an insatiable sexual rampage.
Police officers Amy and Jack stumbles across the deranged predator – but are utterly unprepared for his perverted urges. He takes them both hostage, setting the scene for a psychosexual showdown of orgasmic proportions.
Get it from
Lusting After Michiko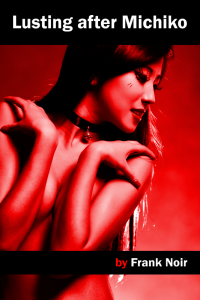 Michiko – an attractive young executive in a nameless city – finds out she's being stalked by a secret, but very insistent admirer. Her quest to reveal his identity becomes a stimulating voyage of sexual discovery. From masturbatory fantasies through exhibitionism to the ultimate raunchy climax, we follow Michiko being pushed to the limit, only to experience new levels of pleasure. Not for the faint at heart.
Get it from:
The Complete Tales of Lust (Vol. 1-4)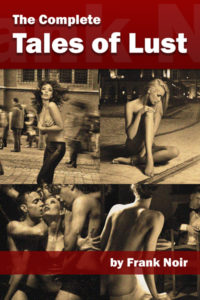 Four erotic collections now available at half price!
All 24 stories from the four "Tales of Lust" collections in one volume – at half the original price.
Get it from
Tales of Lust – Vol. 1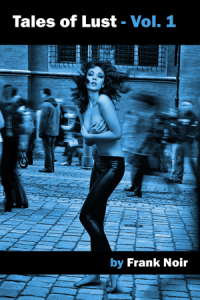 The men – virile, brutal and faceless – emerge from the shadows of your wettest nightmares to break the resistance of the beautiful heroines. As primal urges takes over, no "right" and "wrong" remains – only the ultimate release of unbearable sexual pleasure. Not for the faint of heart.
Get it from:
Tales of Lust – Vol. 2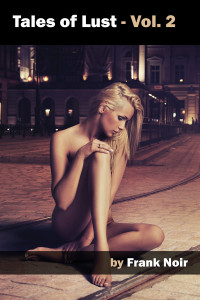 In the universe of Frank Noir, anything may lead to sex – and inevitably sex of a particularly rough and brutal kind.
A young heiress is held hostage by a criminal and his dim-witted brother. A hotel maid witnesses a clandestine affair. A bachelor spies on a naked female neighbour. And every story descends into vigorous, graphic sex acts and orgastic climaxes guaranteed to leave you breathless. Not for the faint of heart.
Get it from:
Tales of Lust – Vol. 3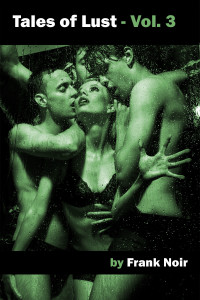 Once again, Frank Noir has unleashed his filthy fantasies on the world. And beware: These stories will crawl inside your mind and awaken your most primal urges.
A man tells his wife he just had sex with her best friend, turning both of them on. A woman held hostage by bank robbers realize they care less about the money than about what's between her legs. A female journalist doing an interview on a construction site is ravaged by the entire workforce.
And that's just half the stories in this sizzling collection – all told in the inimitable brutal, yet sensual style that Frank Noir fans know and love.
Get it from
Tales of Lust – Vol. 4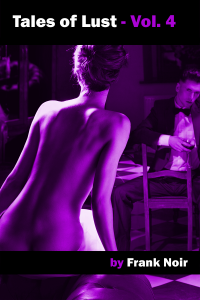 Just when you thought Frank Noir's stories couldn't get any filthier, he decides to turn the kink up another notch.
A racist blonde on holiday in the desert falls into the hands of a virile arab. A perverted flasher takes advantage of a young (and horny) widow visiting her husband's grave. And when the guests gang up on our heroine, even a simple coffee in an outdoor café can lead to hours of unbelievable depravity.
Frank Noir serves up graphic, yet sensual tales of torrid sexual encounters that will force you to face up to your own darkest urges. And ignite a fire of lust in you for which there is but one remedy…
Get it from