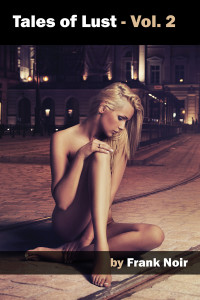 In the universe of Frank Noir, anything may lead to sex – and inevitably sex of a particularly rough and brutal kind. And every story in "Tales of Lust – Vol. 2" descends into vigorous, graphic sex acts and orgastic climaxes guaranteed to leave you breathless. Not for the faint of heart.
The stories in this collection:
"The Kidnappers": Held hostage by two criminals, a young heiress discovers that one of them is not only dim-witted, but spectacularly well-endowed.
"My Naked Neighbour": A single man discovers that his female neighbour is far from shy.
"The Maid": Turned on by spying on a clandestine affair, a hotel maid gets involved in a strange menage.
"The Hangover": Waking up hungover and horny after a wild party, our protagonist finds a strange girl asleep in his flat. What could possibly go wrong?
"The Nurses": Two kinky female nurses takes advantage of their helpless male patient.
"Yes, My Darling – Tonight": A girl receives yet another visit from a mysterious and relentlessly dominant man.
Get it from: