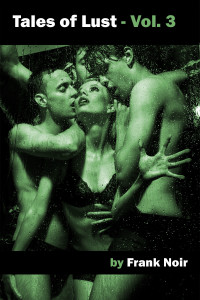 Once again, Frank Noir has unleashed his filthy fantasies on the world – all told in the inimitable brutal, yet sensual style that his fans know and love. And beware: The stories in "Tales of Lust – Vol. 3" will crawl inside your mind and awaken your most primal urges.
The stories in this collection:
"The Bank Robbers": Kelly is taken hostage by bank robbers – but soon realize they care less about the money than about what's between her legs.
"The Gas Station": Unable to remember what happened, a woman find herself naked by a gas station in the middle of the desert. And then two men appear.
"The Warehouse": Office girl Tanya turns down the indecent advances of the guys from the warehouse. But then she reconsiders.
"The Elevator": Michael is all alone in the elevator with a female executive, when she drops her vibrator on the floor. He picks it up – and now he wants to play.
"Her Best Friend": In graphic detail, a husband tells his wife about a hot sexual encounter with her best friend. Who knew it would make her so excited?
"The Construction Site": A female journalist goes to do an interview on a remote construction site. But before long, she is tied up and ravaged by the entire workforce.
Get it from