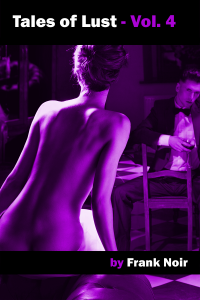 Just when you thought Frank Noir's stories couldn't get any filthier, he decides to turn the kink up another notch.
"Tales of Lust – Vol. 4" are graphic, yet sensual tales of torrid sexual encounters that will force you to face up to your own darkest urges. And ignite a fire of lust in you for which there is but one remedy…
The stories in this collection:
"Bedfellows": A reservation mishap forces two colleagues to share a hotel bed. What could possibly go wrong?
"The Tourists": Nikki is not enjoying her holiday in the Arab world. But unfortunately the local men find her shapely body irresistible.
"Superficial Damage": When a young woman crashes into another car, its male driver demands a very special kind of compensation.
"Revenge": Ed wants to punish his supposedly unfaithful wife. But soon the tables are turned.
"The Plumber": When Christy makes plans to seduce the handsome young plumber, she ends up getting much more than she bargained for.
"The Churchyard": A young (and horny) widow goes to visit her husband's grave. She doesn't know that a depraved flasher is lurking in the churchyard.
"Outdoor Service": A story in three parts: Rachel's visit to an outdoor café turns into a frenzied sexual adventure when the waiter and the guests gang up on her.
Get it from