Excerpt from Frank Noir's novel "Wet Dream Therapy".
The story so far: Having been cheated on by his wife and colleague, sex therapist David Durand has moved out of their flat and is spending a lonely night in a hotel room. 
---
David got out of bed and sat in front of the laptop. As he logged onto his favourite porn site, he recognized the rows of recently watched clips. He scrolled through the pages until an image caught his eye. A young girl in an underground parking garage, fucked from behind by a uniformed police officer. Why not?
He clicked on the image and the video started playing. A cheesy soundtrack accompanied the blonde girl in her short skirt and heels walking aimlessly around the garage. This went on for a bit too long. Finally, the silhouette of the policeman appeared in the background. After a few nonsensical lines of dialogue he grabbed her by the arms and forced her down on the hood of a car. She protested, struggling. The policeman put his hand up underneath her skirt. The girl screamed as he began to massage her cunt. David felt his cock swelling, the warm, pleasant sensation of arousal.
He watched as the policeman lifted up the blonde's skirt. The camera moved closer, letting him see the policeman's gloved fingers thrusting into her pussy, juices glistening on the black leather as he moved his hand back and forth. The blonde moaned, her thighs trembling.
The policeman unbuckled his belt and pulled down his trousers. His long, dark-skinned cock jumped up, hard and twitching. He grabbed it in his gloved hand and swiftly stroked the shaft a couple of times. Stepping up close, he forced the blonde's legs apart and guided his huge cock towards the entrance to her cunt. Slowly, he slid his tool all the way in, making her whimper out loud. The policeman began thrusting, fucking the blonde with long, powerful strokes. The camera got in close, showing her slippery pussy lips, the erect shaft slipping in and out, wet from her juices. The blonde moaned louder, writhing on the hood of the car.
Now David had a powerful erection. He zipped down his pants and released his cock. It felt good. He took the bulging shaft in his hand, slowly masturbating as he watched the policeman fucking the beautiful blonde. Clear fluid oozed from the tip of his member.
A loud, metallic rustling came from the door.
David swiftly stuffed his cock back inside his trousers, zipped up, and closed the lid of the laptop. Seconds later, the door opened slightly and a young maid peeked into the room. Her face reminded her of a renaissance painting – round, pale, angelic even, her lips painted bright red.
"Oh," she said. "I'm sorry. I didn't know you were in."
"Never mind," David said.
He stayed seated, his head turned towards the door, as he waited for his erection to subside. His stiff cock still stretched against the fabric of his trousers.
"Is it okay?" the maid asked, still halfway hidden behind the door. "Or should I come back later?"
"Oh, no," David said. "No, please. Come on in."
"Thank you."
The door opened, the maid pushed her cleaning trolley into the room and closed the door behind her. She smiled shyly.
She really was pretty. Not very tall, but with a surprising voluptuous figure for such a young girl, David thought: Big, round breasts, wide hips. A shame she was dressed in that dull grey coat. But those kinky little maid's uniforms probably went out of use around a hundred years ago.
"Were you working?" she asked. "Don't mind me."
"Yes," David replied. "But never mind. It can wait."
She nodded, smiling as she took a stack of towels from her cart.
"So …" she asked. "What do you do? If you don't mind me asking."
David's erection had almost subsided – his cock just felt slightly warm and swollen. He turned to face the maid, smiling, too.
"I'm a therapist," he said. "A … sex therapist, in fact."
The maid's eyes widened.
"Ooh," she said. "That sounds interesting."
David shrugged.
"I guess," he replied.
"So … you in town for some kind of conference?"
He winced.
"Something like that," he said quietly.
The maid carried the towels to the bathroom and came back. She stood next to the desk, shaking her head.
"No, please," she said. "You mustn't let me keep you. I'm sure you have work to do."
Before he could stop her, she'd opened the lid to his laptop.
"Oh, ah, oooh," the blonde in the video gasped, as the policeman thrust hard and deep into her cunt.
David felt his cheeks turning red. The maid giggled.
"Oh," she said. "I'm … I'm sorry."
"Never mind," David said, reaching for the lid.
"No," the maid said.
She reached for the laptop to keep the lid open, her little hand brushing against David's.
"Don't close it," she said. "Let me see what it is."
"It's porn," David said coldly.
The maid nodded, grinning.
"I know," she said. "And I like porn. I like it a lot."
"You do?"
"Mmm. Ooh, look at that. He's really giving it to her, isn't he?"
David pulled back his chair. The maid leaned over the table, her round breasts stretching the grey fabric as she watched the video.
"Oh, yes, ah!" the blonde cried.
The maid turned her head to look mischievously at David.
"So you weren't working," she said slowly. "You were watching porn."
David nodded.
"Guilty as charged," he said.
"Oh dear," the maid said. "So I did interrupt you, didn't I? You were getting ready for a bit of pleasure and I walked in on you and ruined everything."
"Well …"
"Would you like me to take over?" she whispered. "I don't mind."
"Take over?"
The maid knelt down in front of his chair and slowly zipped down his trousers. Her slim fingers released his cock. After watching the porn video again, it had swollen to a half-erection. Smiling, she gently stroked it, making it twitch and throb. She parted her bright red lips and slid the shaft inside. As David felt her wet mouth engulf his cock, he gasped.
"Ah!"
The maid moved her head back and forth, back and forth, slurping loudly as she sucked his tool, covering it in her saliva. It grew harder and harder. David felt the swollen head brush against the roof of her mouth. The maid's hand reached inside his trousers, grabbing his hairy balls. The tickling sensation made his cock jump and stretch.
"Ah yes," he whispered. "You're a naughty little girl, aren't you?"
Her eyes met his. He watched his cock – now completely erect – sliding wet and slippery in and out between the bright red lips of her classically beautiful face. She slobbered, drool running down her chin as he fucked her mouth.
"And you know what happens to naughty little girls, don't you?" he said.
He grabbed her curly, blond hair, pulling her head away from him. His cock slipped from her mouth, making a popping sound.
"Ah!" she gasped, licking her lips. "What?"
"I'll show you," David said. "Take your clothes off."
Smiling slyly, the maid stood in front of him and slowly undressed. Her body was a beautiful hourglass figure, her full breasts firm and shapely, and between her curvy hips a neatly trimmed blond bush just barely hid the entrance to her cunt. David stood up, swiftly threw off his shirt, and pulled down his trousers.
"Lie down," he ordered. "On your back."
The maid obeyed, lasciviously arranging her naked body on the bedspread.
"Ooh, doctor," she said in a mock baby girl voice. "Are you going to fuck me?"
"You just wait and see," David said.
The maid's hand found her pussy, and her fingers began sensually circling her clit.
"Yes," David gasped. "Like that. Keep going. Play with your cunt."
"Ooh," she purred. "Sounds like you're a naughty doctor. A very naughty doctor, indeed. Aaah …"
She writhed on the bed, rhythmically massaging her clit. David masturbated at the sight.
"Put two fingers inside your pussy," he ordered.
The maid obeyed. Gasping loudly, she fucked herself with two fingers of her left hand, still masturbating with the right. She threw her head back in ecstasy.
"Ooh, doctor," she squealed. "I'm coming. Can I come, doctor?"
"No!" David said. "Wait."
Naked and aroused, he climbed onto the bed and forced her thighs apart. He grabbed his erect cock by the root like a truncheon and slapped it hard onto the hood of her clit.
"Ah!" she cried.
He slapped it again. And again. Clenching his teeth, he kept slapping his meat onto her most sensitive flesh. Shivering all over, the maid arched her back and let out a loud cry as she climaxed.
"Aaah!"
"Yes!" David gasped. "Like that!"
He crawled off the bed, watching her trembling in orgasm. Her big breasts quivered. As her climax subsided, she brushed her fingers across her cunt and put them to her mouth, curiously savouring the taste of her own wetness. She looked at David, her eyes glazed.
"Ohmigod," she whispered. "That was fucking hot."
"We're not done yet," he said. "Play with your cunt again."
Again she obeyed, letting her nimble fingers circle her hardened pink clit. David wished he'd brought some kind of sex toy. There were so many things he'd love to do to that gorgeous little creature. She looked at him pleadingly as she spoke in her mock baby girl voice:
"Will you fuck me now, doctor?"
David's cock twitched at the sound of the word. He would have loved to fuck her right then and there, but …
"No," he said. "I want to watch you come again."
Whimpering, the maid increased her effort, massaging her clit with furious energy. David smiled, calmly stroking his cock. He loved the feeling of control, loved the maid's obedience. Masturbating, she sobbed louder and louder on the bed, until finally her entire body tensed up, shivering.
"Ohmigod, doctor", she cried. "I'm coming! Ohmigod. Ohmigod. Aaah!"
The maid thrashed about on the bed, crying out in ecstasy. She probably hardly noticed that David crawled onto the bed again, assumed the position between her trembling thighs, and pointed his cock at her wet, pink slit. He thrust brutally into her cunt, burying every inch of his shaft inside her wet flesh. Pumping his pelvis up and down, David fucked the maid in a relentless pace.
"No," she panted, her arms flailing about on the bedspread. "Wait …"
"To late for that!" he shouted. "Doctor's orders!"
David grabbed her wrists and pinned her to the bed as he kept thrusting. Her succulent pussy made wet, slurping sounds with every stroke. He was out of his mind with lust.
"Yes! Yes!" he said, slamming his cock into the whimpering maid over and over. "You've been a naughty little maid. Now take this! And this! And this!"
"Aaah!" the maid cried as another orgasm hit her. "Aaah!"
Juices gushed around David cock, as he fucked her savagely. He felt his balls tightening, the hot spunk forcing its way up through his erect shaft.
"Ahhh!" he said. "That's it! I'm coming!"
He pulled out, kneeling down between her thighs as the first spurt of semen burst from his jerking cock. It fired again and again, long, hot jets spattering the maid's naked skin.
"Unhhh," he groaned. "Unhhh!"
He masturbated, emptying himself of every last drop of thick, white sperm.
David stayed in that position for a while, watching the young, naked girl sprawled in front of her, her pale skin speckled with his semen. The lust that had clouded his mind gradually receded.
What have I done? he thought. The maid writhed sensuously on the bed, stretching and sighing.
"Mmm," she said. "That was nice."
"Look," David said. "I'm sorry. I …"
The maid raised her head and looked at him.
"Sorry?" she said. "What the devil do you mean? That was one hell of an excellent fuck, doctor."
"Really?" David asked.
He got off the bed and swiftly got dressed.
"But I'm sorry if I was too rough," he said. "I shouldn't have …"
The maid giggled.
"Silly doctor," she said. "I like it rough. No, that's not true – I fucking love it."
She got off the bed, ran gracefully to the bathroom and wiped herself in one of the new towels, then replaced it with a fresh one.
"Oh my," she said, "look at me: I'm trembling. That's one hell of a dick you've got there, doctor. Should be classified as a weapon of minge destruction."
David smiled. The maid put her clothes back on and ran her fingers through her curly, blonde hair.
"Are you staying here long?" she asked.
David shrugged.
"To tell you the truth," he said. "I'm not sure. It's a long story. Sort of complicated."
She looked at him earnestly. He realized that she might be able to guess what was wrong. He was hardly the first man with marital trouble to check in here.
"Okay," she said. "But if you're staying, I hope I … run into you again."
David laughed under his breath.
"Maybe you will," he said.
The maid smiled mischievously, her eyes twinkling.
"Then maybe …" she said. "We could watch some porn together."
They both laughed.
---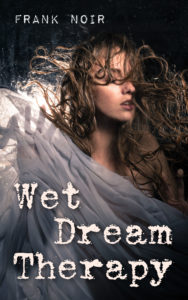 Get "Wet Dream Therapy" from: